Main Content
Rushford, Preston and Harmony Foods is your local source for hometown fresh!
We are locally owned and operated. We appreciate your business.
Harmony Foods, Preston Foods, and Rushford Foods will be CLOSED on Thanksgiving Day.
Rushford Foods
7am – 9pm Monday – Sunday
Preston Foods
7am – 8pm Monday – Saturday
8am – 7pm Sunday
Harmony Foods
7am – 8pm Monday – Saturday
8am – 7pm Sunday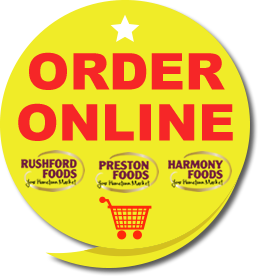 Curbside Pick-up or Delivery
Available at all stores
Click HERE for information
on how to submit an order
for curbside pick-up or delivery.
Click HERE for our NEW Online Shopping Website
If you already use the APP, you can start shopping online
now through the APP.
Currently only available for RUSHFORD FOODS
At this time, we are asking all customers to respect our request of having the opening hour of 7 to 8 a.m. each day reserved for those shoppers who are at a higher risk of severe illness by COVID-19, which includes older adults and those who have compromised immune systems. This is to provide an opportunity for those individuals to be the first to shop after our overnight cleaning.